Mphangele Lodge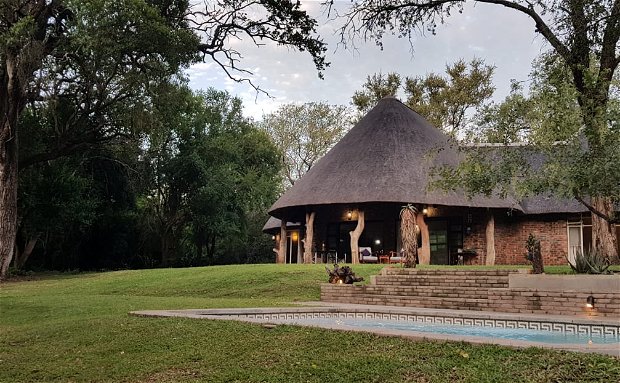 "Mphangele Lodge" - Mphangele is the siSwati name for the helmeted Guineafowl
It is a cosy, intimate family-style lodge on the banks of the perennial Mlawula River. With its splendid, ancient leadwood trees, lush green lawn, palm trees, and swimming pool looking over the river.
It is an extremely pleasant place to relax in the bushveld sitting on the veranda having a cup of coffee watching the sunshining on the cliffs, listening to the sounds of nature and enjoying the peace of the bush . Then enjoying a bush activity of either hiking , cycling ,trail running ,bird watching ,game viewing or just relaxing at the pool or on the veranda and soak up everything that nature has to offer. End the day sitting around the camp fire watching the flames of the camp fire and the sparkle of the fireflys flying up and down the river .
The Lodge accommodation has two double air-conditioned rooms with en-suite bathrooms. There is a large, thatched veranda leading off the living area, where visitors often see nyala and kudu antelope browsing or the African finfoot swimming in the river . The lodge is fully equipped for self-catering, with a braai/barbeque  area, stove, microwave, fridge-freezer, gas skottle braai, pots, pans, crockery and cutlery. 
To access Mphangele Lodge, guests cross a low-level bridge over the Mlawula River, where kingfishers, water monitors and crocodiles abound- it is an excellent spot to enjoy the nature of the lowveld.